Announcing New Blog - Jawad on Web 2.0
January 12, 2009
Hey folks,
After many months of procrastination, lack of will power, and other bad habits, I have finally come to my senses and have launched a new and improved
blog
.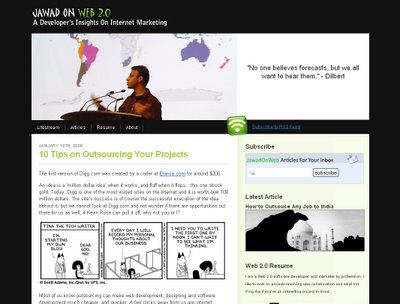 But blogging is so
2005
. So I decided to, instead, incorporate a "lifestream" into the new site. The lifestream features a regular stream of articles I personally find interesting over the internet.
I have also posted some
new articles
for your eyes. These include, "
How to Outsource Any Project to India
" and "
What Yahoo! Must Do to Survive
".
In the future, I will introduce some slick online marketing tools I have been building secretly in my basement. So stay tuned :)
- Jawad Shuaib